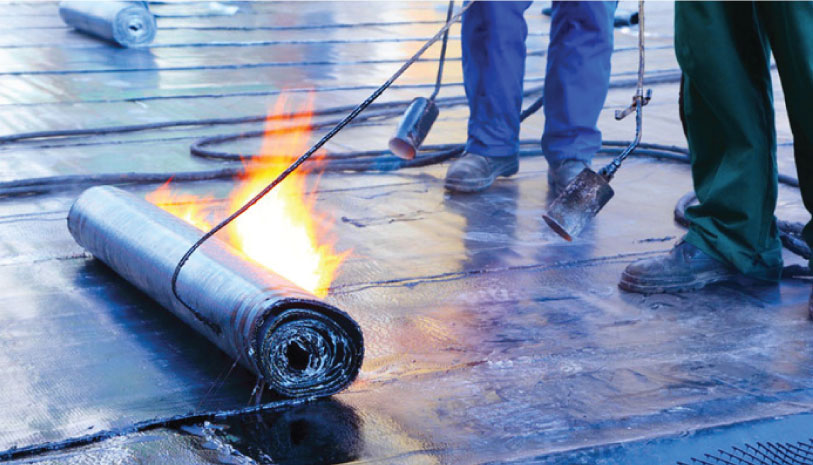 A high-performance polymer modified Plastomeric bituminous waterproofing membrane surfaced with reflective natural colors slates to provide maximum protection against UV. The presence of the slates provides mechanical protection against light foot traffic and occasional maintenance as well as offering an aesthetic surface. It is a perfect solution for the exposed flat roof, where is can be laid over the existing surface and providing cost-efficient and effective solutions to the leaking roof.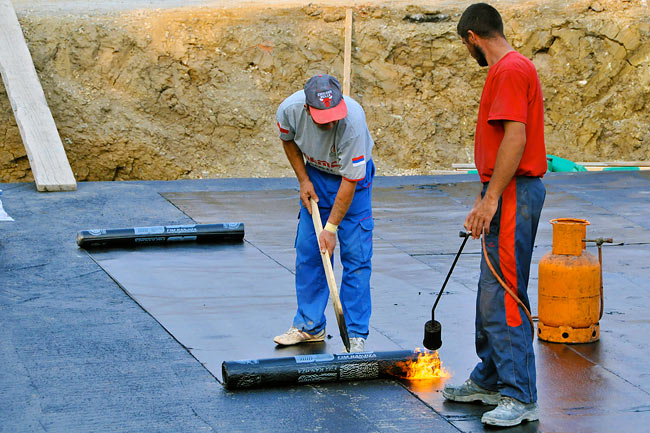 Waterproofing in Buildings|Membrance Waterproofing
Torch On Membranes (TOM) is polymer modified membranes used as Bituminous Waterproofing for substructures and roofs. TOM's are manufactured out of a mixture of bitumen and different polymers like APP (Atactic Poly Propylene) or SBS (Styrene Butadiene Styrene) to influence cold temperature performance, elongation, etc. and are coated onto a dimension stable reinforcement (Polyester or Glassfibre) to influence mechanical properties like tear-strength, puncture resistance, etc.

Torch Applied Waterproofing System Advantages
Reinforced, high strength, minimizing risk at site damage
Easy to install and bond well to the substrate
Good heat resistance
Good dimensional stability under tension
High puncture and fatigue resistance
High tensile and tear strengths
Excellent and Durable for tropical climates and light foot traffic
Don't Let Basement Water Seepage Damage Your Home
Water can enter through your foundation's porous walls via cracks and mortar joints, and travel up through cracks in the floor and under the footing. It can also bleed and sweat off the walls caused by hydrostatic pressure. If you find standing water in your basement or crawlspace, discover cracks in the foundation, or notice that your basement walls are wet or leaky. You may have a potential water intrusion problem. At HOME EXPERT FINISHERS TECHNICAL SERVICES, we can help you prevent water seepage into your basement or crawlspace. When you need concrete waterproofing or basement waterproofing, we are the contractor to call.
Our waterproofing methods will keep moisture out and keep your home's basement dry and comfortable. We are professional experts on basement and crawlspace waterproofing and encapsulation for both residential and business office spaces. We use the most innovative and effective drainage technologies and waterproofing sealants available. From polymer-modified asphalt membranes, foundation boards, and strip drains, our goal is to design a personalized system that will never allow water to enter your home or business.